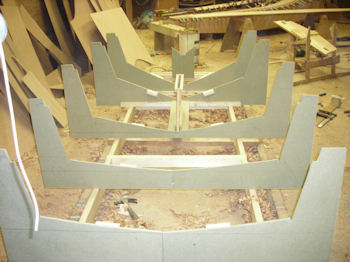 The Mirror was designed to introduce the masses to sailing,  with the chance to own your own boat cheaply.  Many tens of thousands fulfilled their dreams by building a Mirror from a kit.
Building a Mirror is not difficult, easy accomplished by anyone with basic DIY skills and although these days many prefer the convenience of an the 'Off the Shelf'  production GRP Mirror,  Mirrors can only be built from a kit supplied by an ISAF Licenced Kit Manufacturer. There is a list of these on the ISAF Mirror Class microsite under the "Suppliers" tab. Note that this list also includes builders in the process of becoming licenced, these have a Builder Class Type of "ISAF License Prototype".
Where a builder does not have a website, more details may be available on the countries Mirror Class Association website.
Many racing Mirrors are now built on jigs that greatly help to achieve a good and fast shape.  In 2008,  the UK Mirror Class Association,  commissioned licensed builders,  Duffin to construct a jig,  available for members to borrow.
If you are interested in building a kit, here is Phil Rust's story of building GBR 70362